I have finished and released Eye of Darkness, and if you want to get a copy, it's only $2.99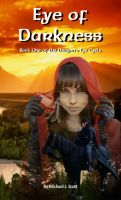 at Amazon and Smashwords (for non-kindle readers). While a fantasy novel is a little different from my "normal" fare, it's still a thriller–just in a wildly different setting. At any rate, I hope you like it.
From March 4th through 10th there is a sale going on at Smashwords, and the book has been discounted there by about 50% (if I remember right).